About the Collection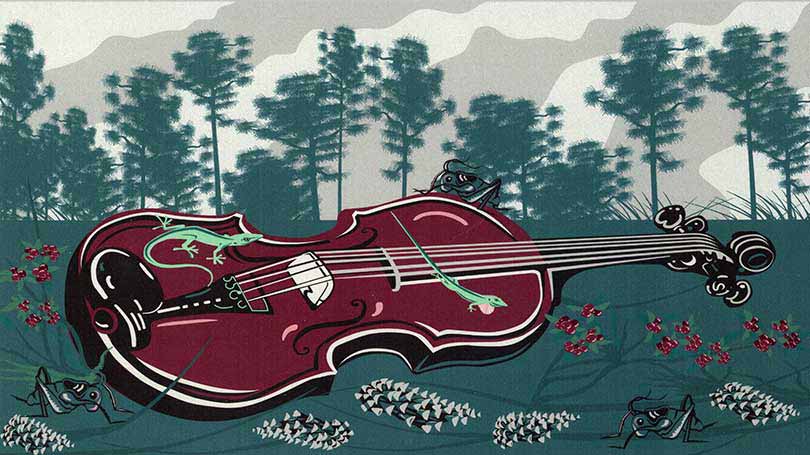 The South Georgia Folklife Collection is housed in the Archives and Special Collections of Odum Library at Valdosta State University. This multi-genre and multi-format ethnographic collection is an outgrowth of the South Georgia Folklife Project, founded by folklorist and ethnomusicologist Dr. Laurie Kay Sommers in 1996. It reflects ten years of field documentation and public programs from 1996-2006. Highlights of the collection include Southeast Georgia Sacred Harp, Okefenokee Music Survey, Flint River fisheries, Traditions of Turpentiners, Folkwriting (Lessons on Place, Heritage and Traditions for the Georgia Classroom), online exhibits, and a radio archives of documentary programs originally broadcast on Georgia Public Radio and other public radio affiliates.
The SGF Collection includes both published and unpublished materials which document traditional culture drawn primarily from the southern third of Georgia. Principal collectors are Laurie Kay Sommers, her students, and--for turpentine materials--fieldworker Timothy C. Prizer. The SGF collection includes more than 350 field sound and video recordings (both music and oral interviews), over 1500 photographs, manuscripts, fieldnotes, books, commercial recordings, and vertical file materials from a wide array of genres. Although the collection is multi-genre, music materials predominate.
The collection is organized into distinct series which reflect topical foci: South Georgia Folklive Overview, Resources (books, articles, commercial audio and video recordings), Vertical File (organized topically and geographically), Sacred Harp, Turpentine, Suckerfish, Okefenokee, Folkwriting, Sounds of South Georgia (radio and accompanying fieldwork), Wiregrass (radio and exhibit materials and some materials from the original 1977 Library of Congress field survey titled "the South Central Georgia Folkife Project"), Last Harvest (seasonal and agricultural workers exhibit based on materials from Echols County, Georgia and Apopka, Florida), Exploring Community Heritage, and Student Projects (from courses taught by Laurie K. Sommers).
About this Site

This website is a project of the Valdosta State University Archives and Special Collections, Deborah S. Davis, archivist. Laurie Kay Sommers served as folklore consultant. James Hornsby of the VSU Art Department designed the site with assistance from Archives webmaster, Patrick J. Taylor. Special thanks to Stacey Wright, Andy Fore, Paul Flowers, Brad Bamford of PC Associates, Fred Sanchez of Great Impressions, photographer Diane Kirkland of the Georgia Department of Industry, Trade, and Tourism, photographer Bill Godfrey of Georgia Forestry Magazine, videographer Bill Muntz of VSU Public Services, and to Rex DeVane and the staff of the VSU Media Center. None of this would have been possible without the generous contributions of numerous individuals who generously shared their traditions and talents with the South Georgia Folklife Project.

Website development is supported in part by the Georgia Council for the Arts (GCA) through the appropriations of the Georgia General Assembly. GCA also receives support from its partner agency, the National Endowment for the Arts. The South Georgia Folklife Project, on which the website is based, received primary funding from Valdosta State University and a series of National Endowment for the Arts Folk and Traditional Arts Infrastructure Initiative grants (1998-2005). Other funding agencies which contributed to the development of materials found on the website include the Georgia Humanities Council, the Southern Arts Federation, and the Fund for Folk Culture.

The South Georgia Folklife Project at Valdosta State University lost funding in June 2005, but selections from its ethnographic collections and public programs are archived on this website. The Finding Aid lists items in the collection, now housed in the Valdosta State University Archives and Special Collections of Odum Library.
---
---
For Information about the collection and this site contact:
Valdosta State University Archives and Special Collections
Odum Library
1500 N. Patterson St.
Valdosta, GA 31698
archives@valdosta.edu
229-333-7150