PRJ 1002 Turpentine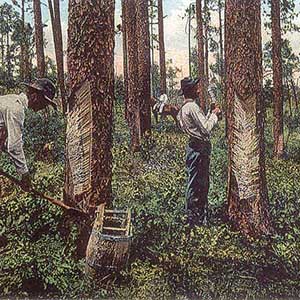 "Faces" in the Piney Woods: Traditions of Turpentining in South Georgia is a folklife and oral history project of the South Georgia Folklife Project at Valdosta State University. It reflects the perspective of the field of folklore and focuses on the occupational folklife of South Georgia turpentine workers. For much of the past century, Georgia was the nation's leading producer of gum naval stores, or the industry of extracting products such as turpentine and rosin from living slash and longleaf pine trees. The last bucket of gum for commercial turpentine was dipped by Major Phillips on August 9, 2001, outside Soperton in Treutlen County, Georgia. The end of domestic turpentining in the United States inspired the project team of Laurie Sommers, Tim Prizer, and LeRoy Henderson to interview former turpentiners about their lives and traditions. The work of gathering and processing the raw gum was done chiefly by African American men, although countless European American small gum farmers turpentined on their own land or on land leased from others. These workers developed specialized knowledge, terminology, customs, and lore which folklorists call "occupational folklife." Although the team had hoped to emphasize the personal experience narratives of turpentiners active in the past decade, more of the interviews dealt with the historic period of the camp commissary and quarters.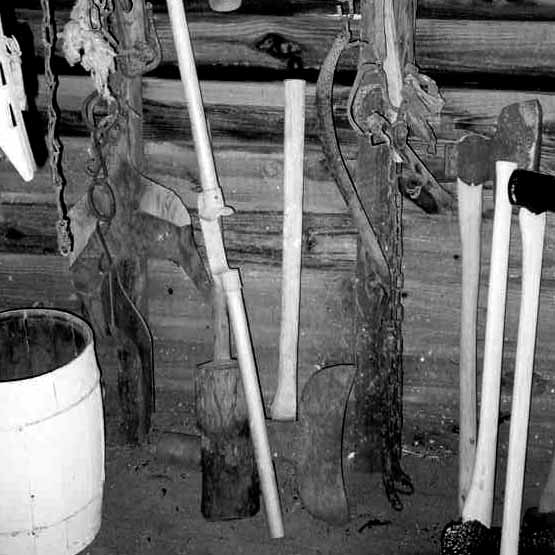 The series contains information gathered from 1998-2004 through background research, vertical file material, photographs, video, and oral interviews. It also includes administrative files for Faces" in the Piney Woods, a Georgia Council for the Arts Folklife Program Grant FY04-41-271. Project materials became part of the Faces in the Piney Woods website: www.valdosta.edu/turpentine which was created in collaboration with VSU Instructional Design Master's student intern, Paul Flowers. Video exhibits for the website came from two 2004 shoots, assisted by VSU Public Services videographer Bill Muntz: Agrirama Turpentine Still Firing (April 2004), and demonstrations of turpentine tools and techniques with Gillis Carter of Willacoochee (June 2004).
The series also includes photos, interviews, administrative files, and ephemera related to donations by Harley Langdale, Jr. and a subsequent exhibit titled "The Legacy of Harley Langdale, Jr." for the Harley Landgale, Jr., College of Business at VSU, which opened in fall 2004 in the Thaxton Hall conference room. The exhibit was curated by Laurie K. Sommers with design by Fred Sanchez of Great Impressions (Americus).
Video tapes from various oral history projects at the University of Florida were loaned for transfer to DVD; the DVDs include footage of turpentine operations and interviews at locations in both Florida and South Georgia, done in the 1980s.
Note: the Wiregrass Ways radio series included a program on turpentining featuring Alton Carton and Elliott West which is included in this series, although it was originally completed in 1998 for a separate project. Tim Prizer's 2002 internship fieldwork and report is also part of this series, based on volunteer work he did while a student at Georgia Southern. He subsequently was written is as primary fieldworker for the Faces of the Piney Woods GCA grant (2003-2004).
Browse this series on ArchivesSpace
Traditions of Turpentine in South Georgia, website.
Turpentine radio program from Wiregrass Ways featuring Alton Carter and Elliott West, 1999
"Faces" in the Piney Woods Final Fieldwork Report by Timothy Prizer, 2004
"Faces" in the Piney Woods Final Grant Report, 2004
Browse the Vault: Turpentine Series
Turpentine Videos - Techniques, Tools, Still-Firing